August 08, 2008
Milford Downtown Farmers' Market
ミルフォードのファーマーズマーケットに行って来ました!
今年から駅近くの便利な場所で、しかも土曜日開催になりました。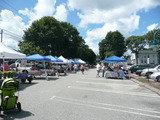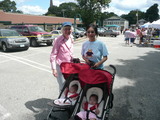 I love local food! I took a walk around Milford Green with my family and went through a Farmers Market. Though it was held by Walnut Beach last year, they open the market near Milford train station. It is very convenient!! I bought a pint of grape tomatoes and Italian bread. And also I met my ESL teacher. I can't take her class any more after I was pregnant, however, we have kept in touch. Anyway, it was good opportunity showing her my babies.
Since I stay home with my babies weekdays, I really enjoyed waking and inhaling fresh air. It wasn't very hot. (It's cool at early morning this week. ) I felt autumn is coming...
**Milford Downtown Farmers' Market**
58 River Street, Milford, CT 06460 (corner of Darina and River)
www.milforddowntownfarmersmarket.com
(July-October)Every Saturday July 5 - October 18 
9 a.m.-1 p.m.