September 26, 2008
Il Palio - Italian restaurant in Shelton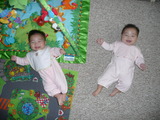 "Il Palio"
★★★★★
Five Corporate Drive Shelton, CT 06484
Phone: 203.944.0770
Hours: Lunch M-F 11:45am - 2:15pm, Dinner M-Sa 5:30pm - 9:15pm, Closed on Sun
I have been busy to take care of my twins. Mia started rolling over by herself. Both Maia and Mia now sit down unsupported, but it's easy to fall down with instability. It's hard to keep paying attention to them, but I'm happy that they are growing day by day.
Today September 26th is our 7th wedding anniversary. My fridns offered to sit our twins at night. I really appreciate their offer. I made a reservation for dinner. My husband and I had a very nice and quiet dinner time at
"Il Palio"
in Shelton.
We haven't had such a comfy, relaxed time since our twins were born. It was precious time for us. The food we ordered were great! I had "Calamari Fritto", "Pollo all Milanese" and "Homemade cheesecake with strawberry and mint sauce". The pasta Yoshi had was not "American" portion, but it was enough.
We should have known to the restaurant before we had children... I highly recommend Il Palio. I wanna say to the friends "Thank you for visiting us and taking care of Maia and Mia" for our wedding anniversary.
(Information as of 9/28/2008 )