Maia & Mia
March 14, 2009
16 days to move
Hi, there!
How have you been?

We're doing good.

I just can't belive that we have to move back to Japan in the end of this month (March). I feel more than "Time flies", like "Everythins has gone in a flash". I don't remember what I did in February.

I only know Maia and Mia has been growing day by day. They are changing their stage so quickly. It's getting hard to catch up with the speed. Of course, their growth makes me happy though.

Hope to update this blog more...

Since I don't have time to write, I'll put some pictures asap. Enjoy!


December 23, 2008
HAPPY HOLIDAYS! 2008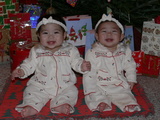 Dear Friands and Family,
Wishing you the best of the season
and throughout the New Year!
From the Panya's
Maia and Mia is now 8 months.
-My home is now baby-safe.
-They have 2 teeth.
-Getting into the stages of crawling! Something like this: from a sitting position to all fours, to rocking back and forth, to finally pushing off with the knees -- and then starting to move back (rarely forward).
-Talking a lot and some look like "human" words, "OK!" "I did it!" "Get it!" "DaDaDa" "Atta!"(I found it! in Japanese.) "Ita!"(Here he/she is! in Japanese.) "Itai, Itai" (Ouch, Ouch! in Japanese.)
-They know "Bye bye" and sometimes wave their hands.
-They do not like sitting up. No more!
-Love to stand up with holding furniture and pull theirselves to move their position.
-Everything goes into their mouths.
-Less slobber than last month.
-Able to play with the other (Mia, Maia) for a while (sometimes over 1 hour) nicely.
-They do not like changing diaper, because they have to lie down.
Fun and Busy Days. To me, everything is behind especially in December. I can't believe that today is December 23! Hope to catch up with my calender and have a healty holiday and the happy new year.
It's going to the White Christmas this year.This is the last (and the first for Maia and Mia) holiday season in CT. I'll have fun!
November 12, 2008
7 months old!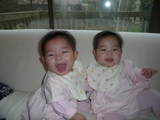 Time flied. Time flies. Time will fly.
OMG! 4 months to go... I have a lot to do.
"Maia and Mia are now 7 months old."
I'm very happy that they have been staying healthy. They talk each other and laugh togeter. Even Yoshi and I can't understand their language, they enjoy talking. Viva twins!
Maia and Mia started baby food - apple, acorn squash, banana, carrot, sweet potato, rice cereal. They eat well. So far so good!
ーーーーーーーーーーーーーーーーーーーーーーーーーーーーーーーーーーーーーーーーーーーーーーーーーーーーー
光陰矢の如し、このままあっという間に時間が経ってしまいそう〜。
帰国まで、あと4カ月。信じられない。
それはさておき、MaiaとMiaは7カ月になりました。健康でいてくれて幸せ♪最近は2人でおしゃべりしては、一緒に笑ったり、こちらがうらやましくなるくらい。もちろん、Yoshiと私には理解できません。離乳食も始まって、りんご、かぼちゃ、バナナ、にんじん、さつまいも、おかゆなどを食べています。今のところ2人ともよく食べ、いたって順調!早く、一緒にごはんを食べられるようになるといいなー。
(写真/11月15日撮影)
November 04, 2008
Presidential election 2008
Presidential Election Day, NOV 4th 2008
I got a bodysuit for Maia and Mia.
It says
I VOTE for a change!
(my diaper's wet)
Isn't it pretty?
BTW, the official site of "Barack Obama and Joe Biden" is
voteforchange.com
God Bless the United States of America.
Photo:Maia
October 31, 2008
Happy Halloween!
Maia & Mia's 1st Halloween!
It was "PERFECT" mild weather in CT. Yoshi held Mia and I held Maia in Elmo-s for trick or treating. We just went to our close friends' houses and our club house in our condo. It took a 20 minute walk. That was enough for us! By the time, Maia fell asleep in my arm. Since they won't remember it, I took their picture in memory.
We got a lot of candy! I can eat them, but we also got play dough. Umm...
ーーーーーーーーーーーーーーーーーーーーーーーーーーーーーーーーーーーーーー
MaiaとMiaの、初めてのハロウィン!
あたたかく、ハロウィン日和のコネチカット。MaiaとMiaは、セサミストリートのエルモになりました。最初で最後になっちゃうのかなぁ〜。こんな楽しいイベントは、帰国後もできるといいな。2人の記憶には残らないので、記念に写真を撮りました。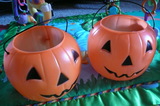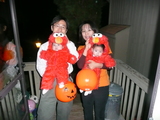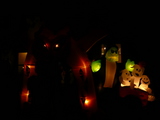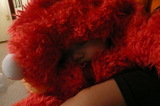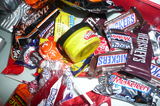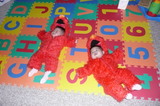 October 12, 2008
Happy Half Birthday!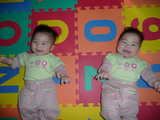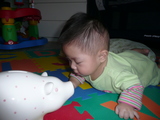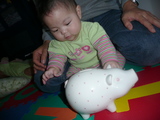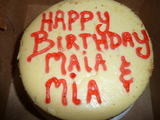 Maia and Mia is now 6 months old. Happy HALF Birthday!!
I got a birthday cake yesterday. Of course, m&m can't have food yet, I enjoyed it. Since it was beautiful weekend, we went shopping to Westport today. Yoshi and I were planning to buy piggy banks for m&m before they were born, however, I didn't buy them too early. Then, time flied... a half year passed. We finally got them!
This is the cake I bought. I should have got bigger one. It was pretty but the writing was too tight, wasn't it? Now I know that more space is needed for 2 names.
September 12, 2008
5 months old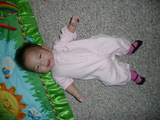 Maia is very active and talkative (I can't understand though). She isn't interested in rolling over and loves to stand up or walk supported.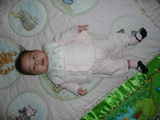 Mia now started rolling over and sitting up and works hard to move more everyday. She likes having someone hold her in her arm.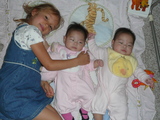 Our friend Eririn visited us and read some books for Maia & Mia. They had a nice time. Thank you, Eririn!
July 12, 2008
3 months old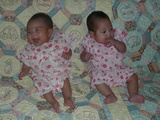 Maia & Mia just tuned 3 months!
We went to our doctor's office to check up yesterday, and everything was fine!
(from left: m&m's ice cream cake, Maia & Mia, Personalized m&m's)
ーーーーーーーーーーーーーーーーーーーーーーーーーーーーーーーーーーーーーーーーーーーーーー
MaiaとMiaが3カ月を迎えました!昨日検診に行ったところ、全く問題なし。おかげさまで、順調に育っています。大人達は盛り上がり、m&mのアイスケーキとシャンパンで3カ月のお祝いをしました。(笑)
Data
Mia*** HT(身長) 21 3/4 (55.2 cm)、WT(体重) 10.8 (4898g)、HC(頭囲) 37cm
Maia*** HT(身長) 20 1/2 (52.1 cm)、WT(体重) 8.5 (3856g)、HC(頭囲) 36 1/2
June 04, 2008
Good girl, Mia.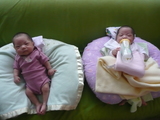 I often need extra hands after I had Maia & Mia. I've been trying to look after them as far as I can, but it never be perfect. Sometimes they have to be do in their own. Mia drrank a bottle of milk by herself today. It happens in our case. Thank you for helping mom!
ーーーーーーーーーーーーーーーーーーーーーーーーーーーーーーーーーーーーーーーーーーー
MaiaとMiaが生まれてから、手があと2本あったらいいのに〜、猫の手も借りたい、と思うことがしばしばあります。できる限りのお世話はしてあげたいと思っているけど、なかなか上手くはいきません。そんな時は、彼女達自身でやってもらわないといけなかったり。今日は、Miaにミルクを飲ませている途中にMaiaも空腹になり、Miaには自分でミルクを飲んでもらいました。こんなことがたびたびあります。Mia、手伝ってくれてありがとう〜。
June 01, 2008
UNIQLO BABY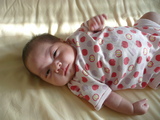 Have you heard of UNIQURO ? It is a Japanese retail maker, and they sell clothes. They have a store in Soho in the city too. UNIQLO is popular among Japanese because their clothes are high quality and in expensive. Their designs are very simple. I have some clothes of UNIQLO, however, I didn't know they sell baby clothes. My friend living in Japan sent me baby clothes for Maia and Mia. I like them! They aren't Kimono style but American body suits.The patterns are very pretty! Mia tried it on! I'm not sure if all UNIQLO store sell baby clothes, but I'll check a UNIQLO store when I go back to Japan . Hopefully, they have baby section.
Thank you for the pretty clothes!
ーーーーーーーーーーーーーーーーーーーーーーーーーーーーーーーーーーーーーーーーーーーー
マンハッタンのソーホーにも店舗がある、ユニクロ。安価で品質がよくシンプルなので、私も愛用していますが、「ユニクロベビー」があったとは!友達がMaiaとMiaに送ってくれて、初めてその存在に気づきました。服の形は、着物タイプ(前開き)ではなくアメリカで主流のボディースーツ(かぶり)。でも、柄が日本人好みで可愛い。アメリカには、ありそうでないなぁ。さっそくMiaが着てみました(Maiaにはまだ大きい)。着心地よさそう♪ユニクロの全店舗でベビー服を扱っているのかわかりませんが、帰国した際にはお店を覗いてみたいところです。あるといいな〜。
可愛いベビー服、ありがとう。
May 15, 2008
Which is Maia? Mia?
(From left) Mia, Maia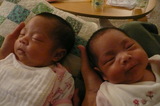 When Maia and Mia were at Yale New Haven Hospital, their appetite was small. They used to drink about 20ml. They sometimes drink 120ml of milk at a time. Unbelievable, and it makes me happy too. Mia is still bigger than Maia, but Maia might catch up Mia in the future. It's getting hard for me to distinguish them.
ーーーーーーーーーーーーーーーーーーーーーーーーーーーーーーーーーーーーーーーーーーーーーーーーー
ミルクを飲む量、睡眠時間ともに増えつつあります。おかげで麻衣亜が急成長、二人の見分けがつかなくなってきました。一卵性双生児の見分け、何かいい方法あるかな〜。ブレッスレットをするとか?
May 12, 2008
1 month old
(From left) Maia, Mia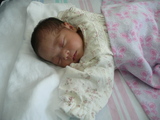 We were born on Sat. April 12, 2008. We're now 1 month old. YAY!! No more quiet time... we express ourselves by speaking (=crying, groaning). When we're sturving, I cry louder and louder. Yes, We're smart!!
*** I moved to Connecticut on May 12, 2004. 4 years has passed. Time flies! -Panya-
April 14, 2008
New Family Members! Maia & Mia
Maia & Mia have arrived!! Both of them and mommy are fine! I'm writing from Yale Hospital in New Haven. I'm sooooooo HAPPY.
ーーーーーーーーーーーーーーーーーーーーーーーーーーーーーーーーーーーーーーーーーーーー
4/12土曜日、ついにベビーが産まれました。麻衣亜と美亜です!今はニューヘイブンの病院から、書いています。詳しくはまた書きますが、母子ともに元気です♪幸せ〜。私は水曜退院、たぶん美亜は一緒に退院できそうな気配です。麻衣亜はまだ保育器の中ですが、元気です。

Twin A / 長女
NAME: Maia(麻衣亜)
MIDDLE NAME: Violet
DOB & TIME: 4/12/2008 at 12:37 a.m.
WEIGHT: 3 Lbs. 3 Oz.
HIGHT: 16 inches


Twin B / 次女
NAME: Mia(美亜)
MIDDLE NAME: Lily
DOB & TIME: 4/12/2008 at 12:40 a.m.
WEIGHT: 4 Lbs. 8 Oz.
HIGHT: 17.91 inches